Prepare for the road ahead
The global pandemic has laid bare the important role that health and safety best practices play in our daily lives. From proper handwashing techniques to cleaning protocols and strategies to make our workplaces safer, it's crucial to understand how every employee can take steps to better protect their own health and the health of those around them.
With that in mind, the International WELL Building Institute (IWBI) is offering free Health and Safety Training for Professionals. Through interactive, self-guided lessons, you'll discover the evidence-based strategies and expert recommendations you need to promote health and safety as you get back to business.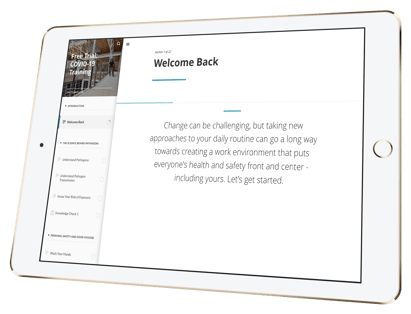 About this course
This self-guided training was built to empower and educate professionals everywhere.
Based on science-backed recommendations produced in response to the recent pandemic, this training contains actionable strategies to help individuals overcome health and safety challenges so they can get back to working, living and thriving with confidence.
Through this training, you will learn about:
The science behind COVID-19 and how it is spread
Guidance for managing your personal safety and hygiene
Strategies to protect those around you
Tips to optimize your work environment for health and safety
While the training is self-paced, the entire course takes approximately 60 minutes to complete. Knowledge checks throughout the training provide opportunities to test what you've learned.
Disclaimer: While the strategies in this training are intended to help promote health and safety in the workplace, an individual's health and safety are determined by a number of factors particular to that individual and implementing the strategies in this training do not in any way guarantee that the individuals in a space will be safe, healthy or healthier, nor that the space will be free from bacteria, viruses, allergens, volatile organic compounds or other pathogens; and the content of this training does not constitute the provision of medical advice nor is does it represent all possible strategies that may be implemented or recommended to promote health and safety.